Life goes fairly well. Our school gets 2+ weeks of holiday break, which means 4.5 more days! Half day this coming Friday, then FREEDOM! Boy, am I ready. Except there'll still be 2.5 hours of swim practice almost every day through break. Except now there's a
purpose.
Our past two meets, the girls team won 48-46, and BOY was it intense. They both came down to the last relay, in which I anchored the B-team. The first one, the whole
meet
came down to the B-team relay, which basically meant down to me. No stress, right? I was so scared of screwing it up for everyone, I beat my time trial time for 100yd freestyle by 10 seconds and nearly puked afterwards. Which was good, I guess. The time, not the puking.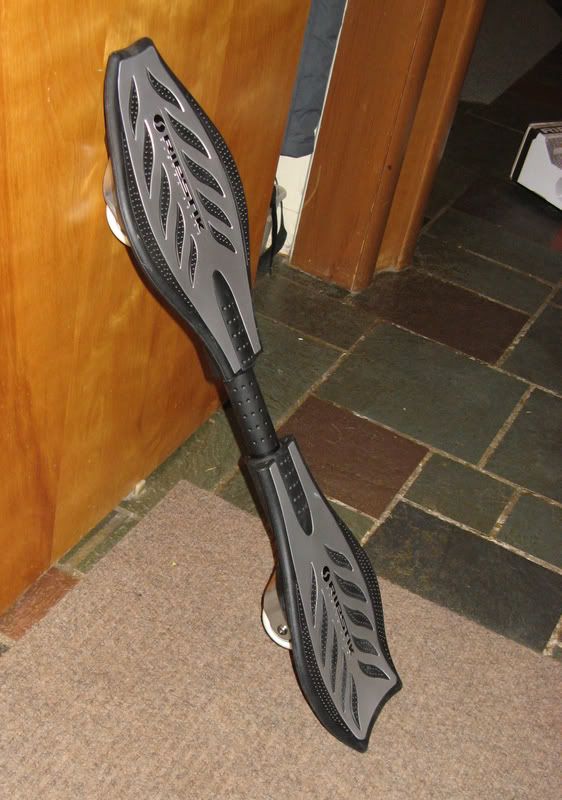 Anyway, getting some sweet loot for Chanukkah, including:
-$25 iTunes card, with which I bought
Flood
by They Might be Giants,
Surprise
by Paul Simon, and a few other songs.
-A knit commission from my mom - I said I wanted a new pair of mittens from Anna Zilboorg's Magnificent Mittens, with angora linings. She made me a pair of these several years ago, but I outgrew them.
-A Ripstik (above)- which is like a skateboard, but more dangerous if you don't know what you're doing. I've been ogling them for a few years now:
Nifty, no?
-An
amazing
bag that my mom and grandma collaborated on to make for me. My mom picked out the fabric and cut it, and my grandma did most of the sewing. It also included a new set of doodads (complete with Altoids tin to hold them) and some sock yarn! See more pictures below.